This month we tested SOD1 Plus in two motorbikes in Australia.
First, we asked 18 year-old Charlie Blakeley who lives on a lovely farm, Wormbete, in the Winchelsea District of Western Victoria, to test SOD1Plus in his 125cc Honda farm bike. This bike was originally a 90cc bike, but after years of hard riding his father Tony decided to replace the engine with a 125cc version. We added 80cc of SOD1 Plus to this engine and Charlie took the bikeoff for a test ride. The verdict?
"Being a new engine, I feel that adding the oil definitely made the gear changes smoother," Charlie said after riding the bike for around a kilometer.
"Also I felt that accelerating up to 70-80 kmh was smoother, and the initial takeoff of the bike was faster."
So, better acceleration and smoother gear changes. That's what better lubrication means. See the video link of Charlie Blakeley and his 125cc Honda here.
Charles Happell, a distinguished sports journalist and golfer in Melbourne, rides a 150cc Vespa S3V Tri Valve scooter to work every day in Richmond. The Vespa is two years old and in good condition. We added 80cc of SOD1 Plus to its engine oil, and Charles rode the Vespa to his office for three days. His verdict?
"To me the engine felt much smoother, it sounded smoother,
a smoother ride," he said. "To me as the rider it felt a smoother ride."
And would you recommend SOD1 Plus to other bike riders? I asked.
"I think on the evidence of the last week, I would definitely
recommend it to others."
See the video of Charles Happell and his Vespa here.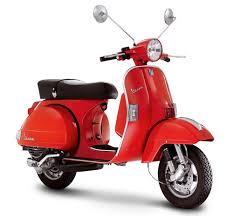 A Vespa - smoother with SOD-1 Plus in its oil.