By Akina Sonoda and Yuki Sonoda
D1 Chemical Co. Ltd
Fukuoka, Japan
What is the best lubricant additive for my car or motorbike? If you want to improve lubrication and extend the life of your car or bike, an appropriate additive to improve oil performance is a wise measure to take. There are lots of additives on the market these days. In this article we discuss one in particular – ester-based lubricants.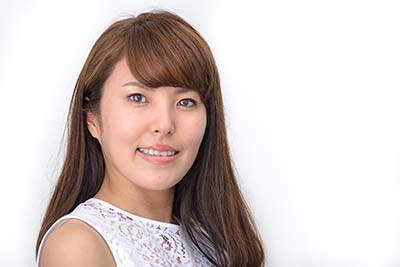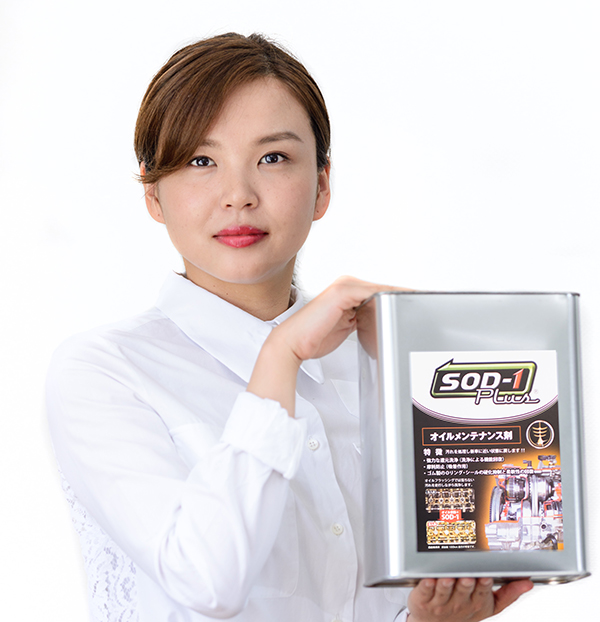 In Fukuoka, Japan, our company makes an ester-based lubricant additive. It's called SOD-1 Plus, and it's made from a combination of vegetable oil-based ester compounds (VOE), polyolesters (POE), and diesters (DST). We and our colleagues use it in the following vehicles among others:
2004 Toyota Land Cruiser (petrol engine)
Kawasaki 900cc Vulcan Classic motorbike
2012 Harley-Davidson FLSTN 1584cc motorbike
2004 Volkswagen Beetle Cabriolet
2010 Subaru Forester
Both the bikes and the cars are much smoother and quieter to drive and ride with SOD-1 Plus added to their normal lubrication oil.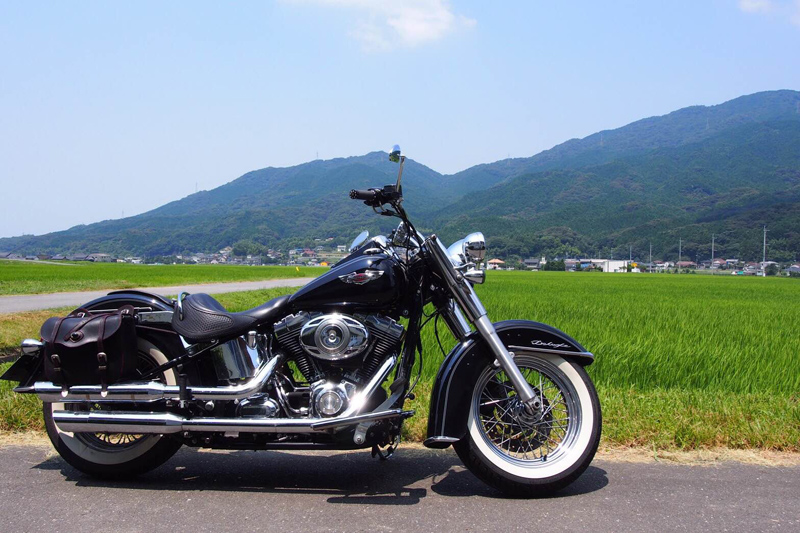 Akina's Harley-Davidson FLSTN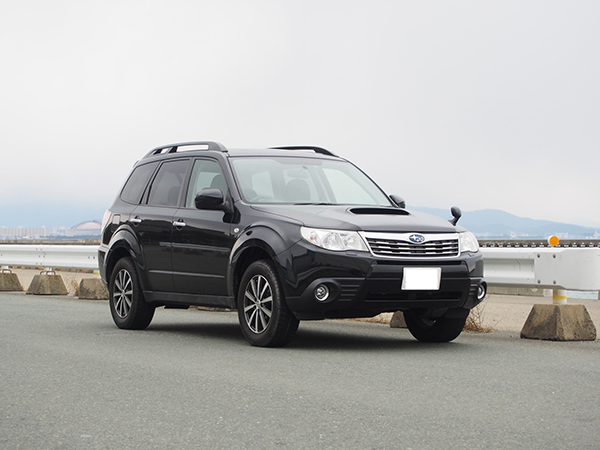 Akina's 2010 Subaru Forester
So why is an ester-based additive so good? Esters have certain special qualities as lubricants or as additives to base oil lubricants. As the American website Machinery Lubrication says:
"Modern synthetic esters can be "tuned" to perform in nearly any environment and application. Whether you seek excellent hydrolytic stability, oxidative stability, biodegradability, lubricity, high viscosity index or low-temperature properties, all of these are possible with the right synthetic ester. Synthetic esters are manufactured from carboxylic acids and alcohols, which are very common chemical building blocks. They provide almost unlimited structural and performance possibilities."
So what exactly is an ester?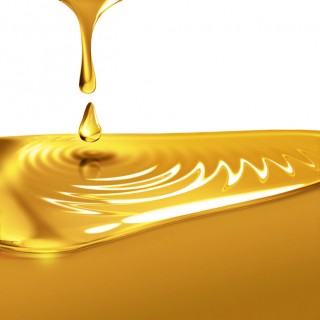 Let's start from the basics. 'Oil' is generally something made from vegetable matter, animal matter, or mineral matter. Oil made from vegetable and animal matter mainly consisting of nutrients and calories is called a fatty oil. Mineral-based oil is used as fuel oil in combustion engines and as a lubricating oil or oil additive in machinery.
In recent times biofuel and vegetable oil made from vegetable-based fatty oils has been used both as fuel and lubricant oils. Because vegetable-based fatty oils have a higher viscosity than mineral oils they cannot be used on their own as biofuels. There is a chemical reaction technology called 'ester exchange' which reduces viscosity. A common biodiesel (FAME: fatty acid methyl ester) involves a basic chemical production method in which the vegetable-based fatty oil consists of fatty acids and glycerine (glyceride), and by being made to react with methanol a methyl ester is created, and a fatty acid methyl ester – which is a compound of fatty acids and methanol – and its reproduction creates the glycerine.
Ester-based lubricant oil uses basically the same production process of methyl ester exchange. Common raw material for producing esters includes palm oil and coconut oil.
Esters have been used successfully in lubrication for more than 60 years and are the preferred stock in many severe applications where their benefits solve problems or bring value. For example, esters have been used exclusively in jet engine lubricants worldwide for over 50 years due to their unique combination of low temperature flowability with clean high temperature operation.
In automotive applications, the first qualified synthetic crankcase motor oils were based entirely on ester formulations and these products were quite successful when properly formulated. Esters have given way to PAOs in this application due to polyalphaolefins' (PAOs) lower cost and their formulating similarities to mineral oil. Nevertheless, esters are often used in combination with PAOs in full synthetic motor oils in order to balance the effect on seals, solubilize additives, reduce volatility, and improve energy efficiency through higher lubricity. The percentage of ester used can vary anywhere from 5 to 25% depending upon the desired properties and the type of ester employed.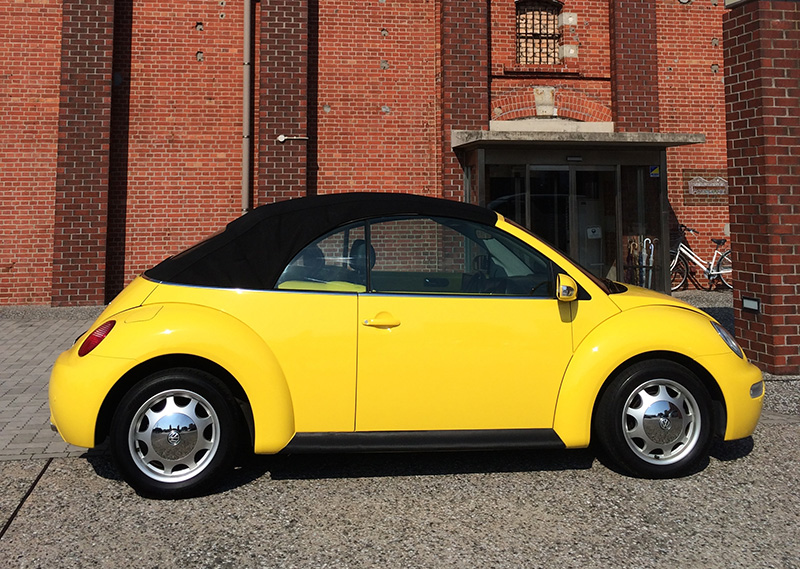 Yuki's 2004 Volkswagen Beetle Cabriolet
The new frontier for esters is the industrial marketplace where the number of products, applications, and operating conditions is enormous. In many cases, the very same equipment which operates satisfactorily on mineral oil in one plant could benefit greatly from the use of an ester lubricant in another plant where the equipment is operated under more severe conditions. The high performance properties and custom design versatility of esters is ideally suited to solve these problems. Ester lubricants have already captured certain niches in the industrial market such as reciprocating air compressors and high temperature industrial oven chain lubricants.
For more information on SOD-1 Plus go to the website www.sod1plus.com
(Translated and edited from Japanese by Andrew Thomson)
P.S. Most people think cars, bikes, and motors are interesting only for men. We disagree. Here in Japan and elsewhere, almost as much as men, women drive cars and ride motorbikes. We have dedicated our careers to improving car and bike performance for everyone, and we hope more women will take the time to learn about motor and vehicle performance. Saving money on cars in particular by improving their performance and extending their usable life is important for women as much as men. We would love to hear from women in other countries who enjoy driving and learning about cars and bikes.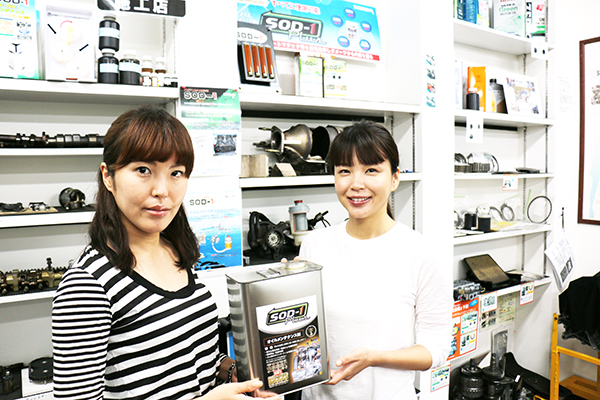 Yuki and Akina – sisters at work at their family company D1 Chemical Co. Ltd. Come to Fukuoka and drive or ride with us. Japan's best rural scenery is here in Kyushu.