Japanese people have a deep streak of nostalgia in them, especially these days with the economy struggling to produce the strong growth of the post-war years. The Showa era – named after the reign of Emperor Hirohito – has a special place in Japanese hearts because of the post-war boom. Japanese cars were very much a part of the Showa era. Car quality and performance leaped ahead decade after decade, and car ownership became widespread.
In Oita Prefecture the town of Bungo Takada is host to Showa Town, a precinct in which the town authorities have tried to preserve the streetscape of the 1950s and 1960s. It also has a museum full of Showa memorabilia. On a Sunday in early March Showa Town hosted a rally of "Showa cars." Most of the cars were Japanese, but there were also a few MG, Lotus, Mercedes-Benz, and an ex-US Army Jeep. Adding to the scene a London double-decker bus was also on display.
Being a sunny day I decided to go to the rally and talk to the owners of the cars on display, in part out of sheer nostalgia myself and also because I wanted to talk to these classic car lovers about lubricant oils and our company's ester-based additive, SOD-1 Plus. What surprised me was the huge number of people at the rally.
My company colleague Akina Sonoda rode her Harley down from Fukuoka to join me. Together we strolled around the car park where the Showa cars were on show talking to the owners. One of the first was a Mr Harada and his wife, both of whom were nearing eighty. They sat in camp chairs beside their beautiful black 1967 Nissan Cedric Deluxe Six.
' It's had only one owner – me,' said Mr Harada.
' Do you drive it around much these days?' I asked.
' Oh, no. But it's got new tires. '
' Do you use special lubricant oil, maybe an additive?'
' No, just normal oil.'
' And when you bought it in 1967 did you drive it every day?'
' Sure. '
' Did it ever break down?'
He looked shocked by the question. ' No, never.'
' Great engineering,' I hastened to add.
' I looked after it, didn't I?' he said to his wife, who nodded sagely.
Over in another part of the car park we found a man sitting behind a sparkling clean red 1972 model Nissan Skyline GT. He wore jeans, a black jacket, and a pair of red shoes that perfectly matched the Skyline's colour. His hair was well coiffured with a liberal amount of hair oil.  His name was Mr  Hidekazu Urabe.
Akina and I introduced ourselves and offered him a pamphlet on SOD-1 Plus. I asked him whether he was in the motor business.
' Sure. I sell spare parts for cars.'
' Do you specialise in Nissan parts?' I asked.
' No, every type of car.'
' And for this lovely Skyline, do you use any particular oil or additive?'
Urabe-san looked puzzled. ' No, nothing in particular.'
Akina took this opportunity to explain the benefits of SOD-1 Plus in reducing wear and abrasion within an engine and other parts of a vehicle. Urabe-san nodded and said he'd like to try some.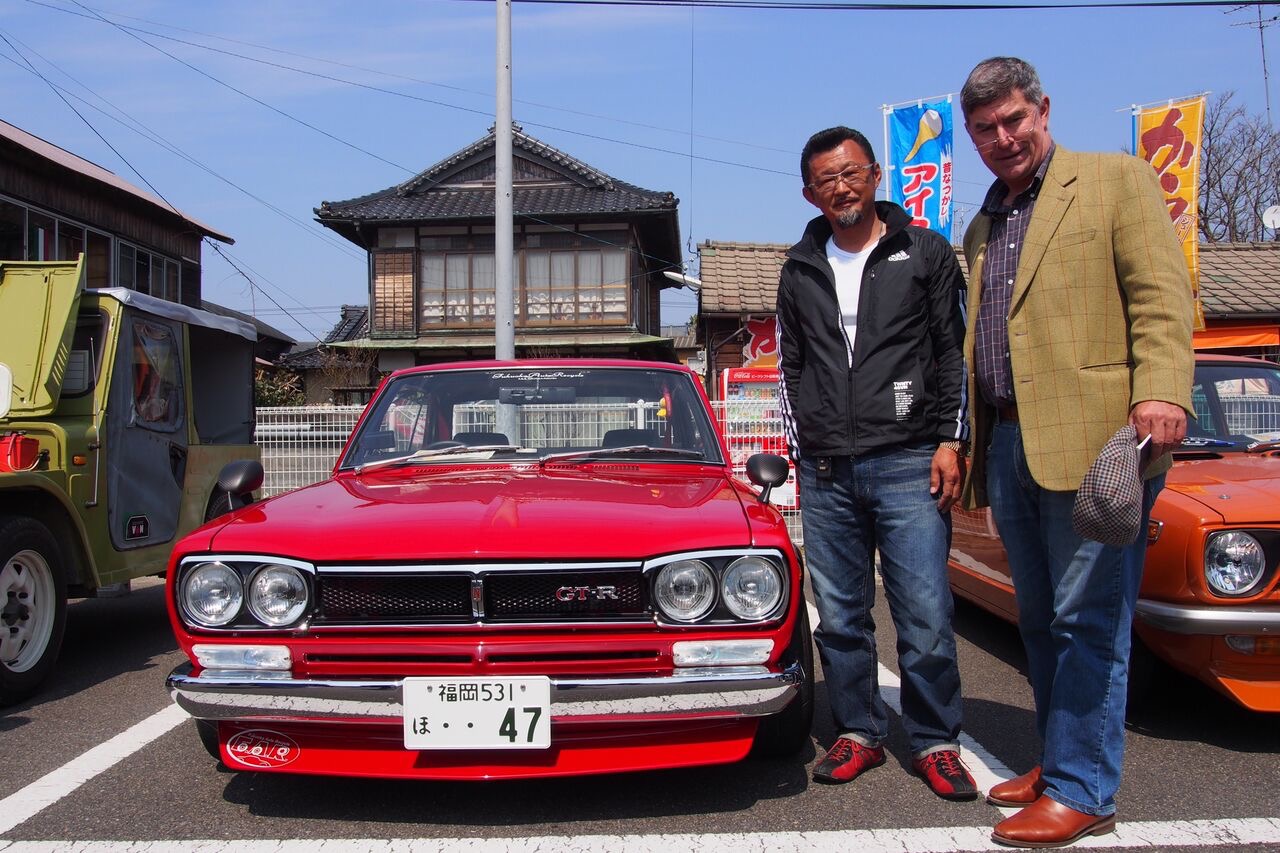 Mr Hidekazu Urabe and his 1972 Nissan Skyline
Three weeks later Urabe-san sent me an email urging me to visit his company. It was located north of Fukuoka in seaside a town called Fukutsu, where by coincidence my brother-in-law lived. I drove out there on a Friday afternoon to find his company was no small enterprise. Outside the office and workshop there were maybe five hundred wrecked cars, many piled up on top of each other. After enquiring at the office Mrs Urabe came to meet me and escorted me to their home right nextdoor to the workshop.
' Oi, Andrew-san!' Urabe-san greeted me on the front terrace of his house.
Immediately beside the house were two shipping containers. Inside each was a Nissan Skyline. The 1972 red model was housed in one container. The other container held a 1970 white Nissan Skyline.
' I keep them in here to protect them from the salt air,' Urabe-san explained. He showed me a small electric device attached to each car which sent a mild electric current through the car body. ' It stops the rust,' he said.
Typical Japanese care, I thought.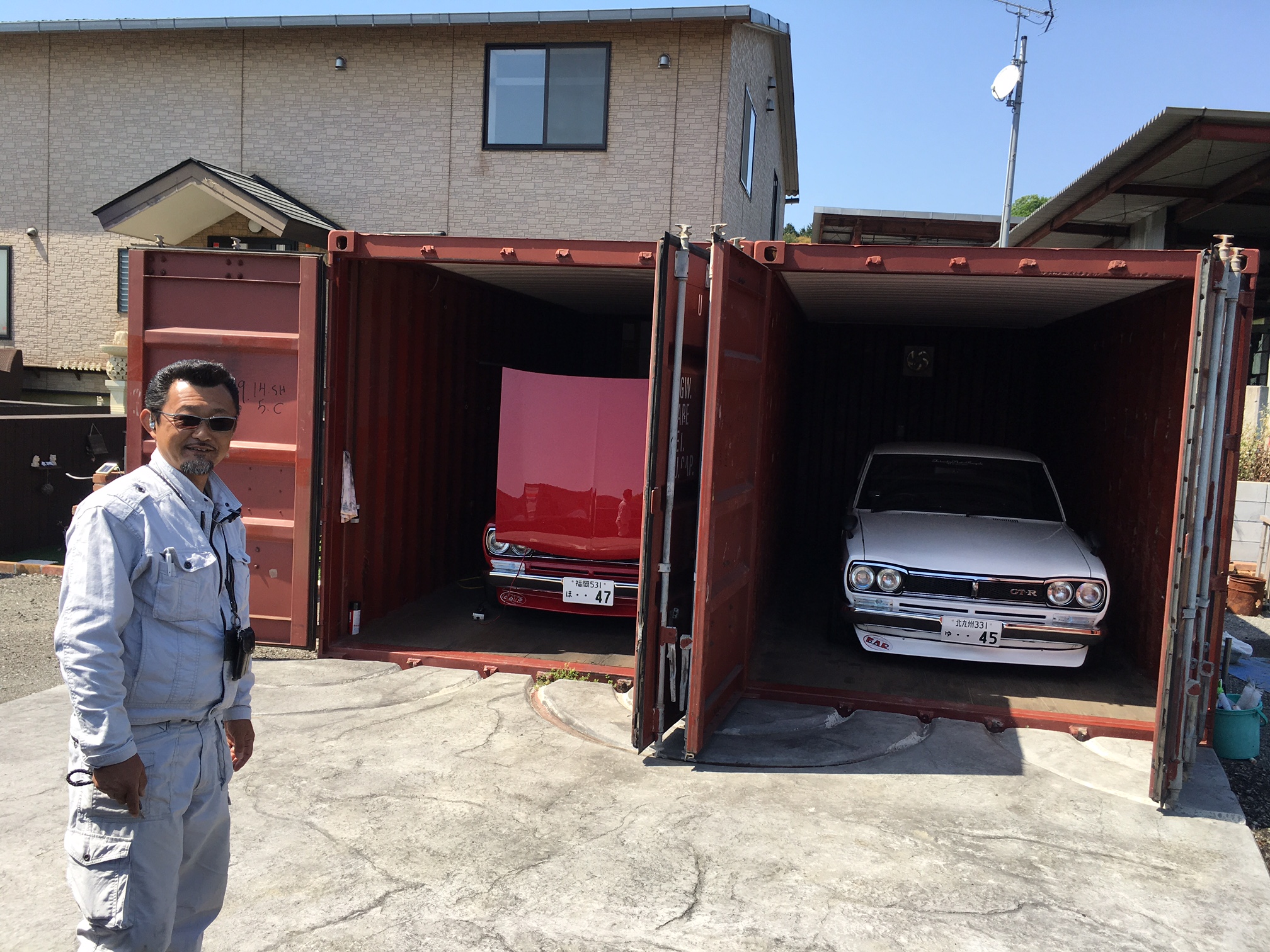 Urabe-san and his two Nissan Skylines in their shipping container garage
' Tell me, how do you sell the parts you extract from the wrecked cars?' I asked. ' Do you sell overseas?'
' Oh, we use Ebay, Yahoo Auction, that sort of thing. Occasionally we get orders from outside Japan.'
I gave him a 400cc sample can of SOD-1 Plus and suggested he try it in the engine of one of the Skylines. ' If you want to have it added to the transmission and differential please come to our office and our mechanic will do it for you,' I said.
We looked around the yard among the wrecked cars. There were some lovely old models: Toyotas, Nissans, Datsuns, and some Volkswagens and an ancient Alfa Romeo.
' We Japanese people really value our classic cars,' Urabe-san said with obvious pride. ' You should come to the Skyline rally in October. It's the best in the world.'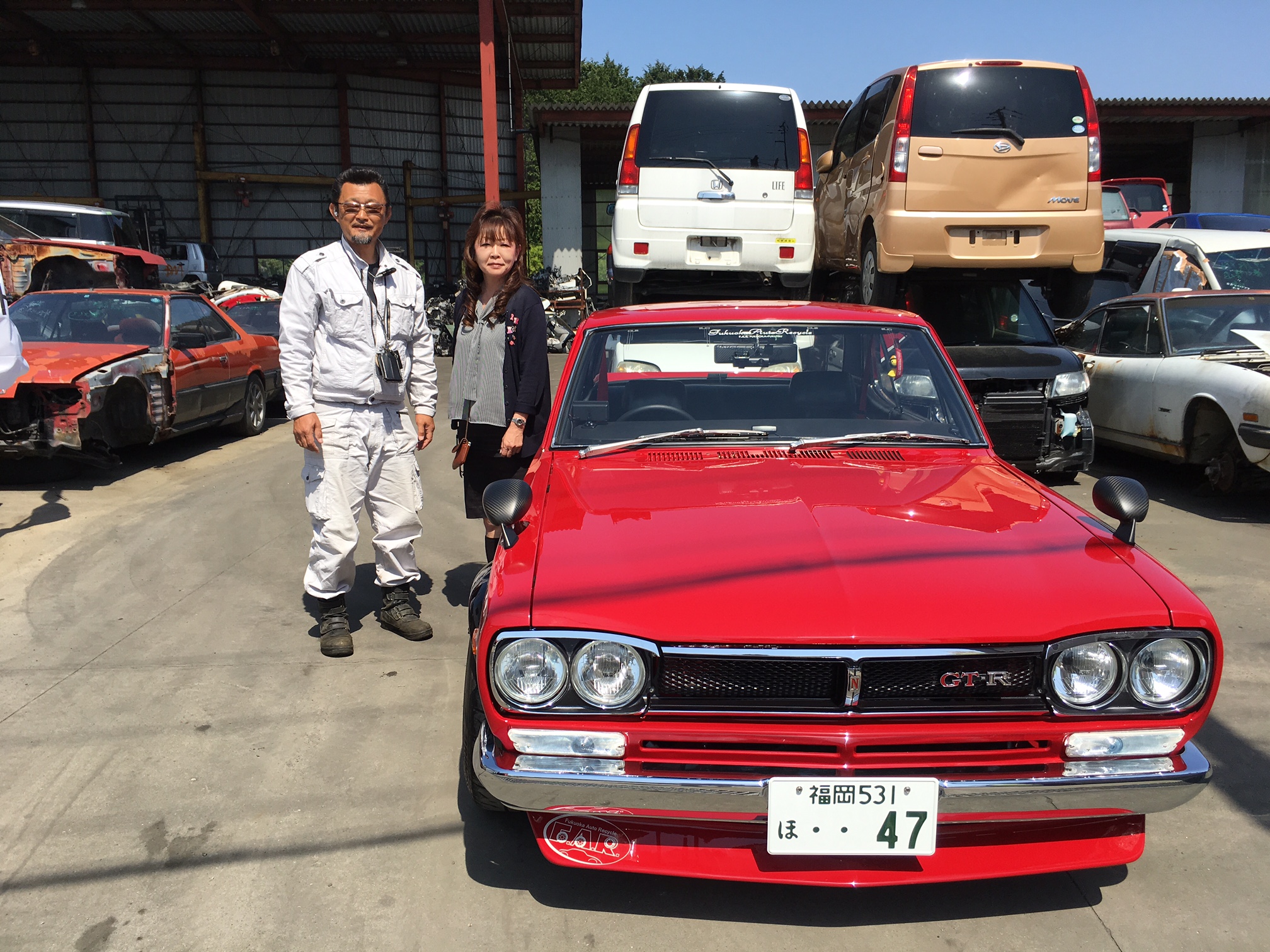 Mr and Mrs Urabe at their business